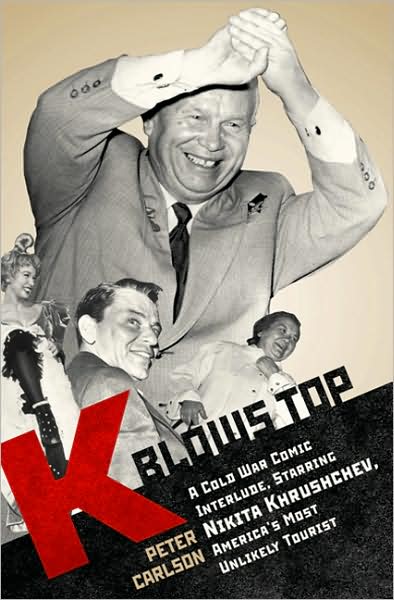 In 1959, the leader of the Soviet regime, Nikita Khruschev, visited the United States for a lengthy tour of both major cities and country fairs. He was met with varying levels of interest, sometimes parades and sometimes protests (and sometimes both).
The author begins his story with Vice-President Nixon's visit to Moscow and the "Kitchen Debates", but that is only the preface to the real story. Originally Khruschev was to reciprocate the invitation to come to America with an agreement to meet for talks on the arms race. But wires got crossed, and the codicil to the invitation went unvoiced.
This put the tour by Khruschev on a somewhat tense level with the Eisenhower administration which felt it had an obligation for diplomacy by allowing the tour to be one-sided from their point of view, but it was pulled together nonetheless. What follow in the latter ¾ or so of the book is an entertaining and often hilarious tale of the Soviet premier's encounters with diplomats and ordinary citizens as he goes from New York to Los angeles to a county fair in the Mid-West, with people fawning over him in some of the most unlikely of places, given the atmosphere of the time. (This, you will have to be aware, occurred not long after the McCarthy "Red Scare", and just following on it's heels would have been the Bay of Pigs and the Cuban Missile Crisis of the next President's term.)
All of this proves to be one of the more readable biographies I have read in recent years (albeit not a true "biography" in the sense of the word that I would normally mean, since it spans less than a year in total time). I highly reccommend it to anyone who normally avoids biographies, though, because it hardly feels like one, more like an anecdotal remembrance instead.
I rate it 7½ stars