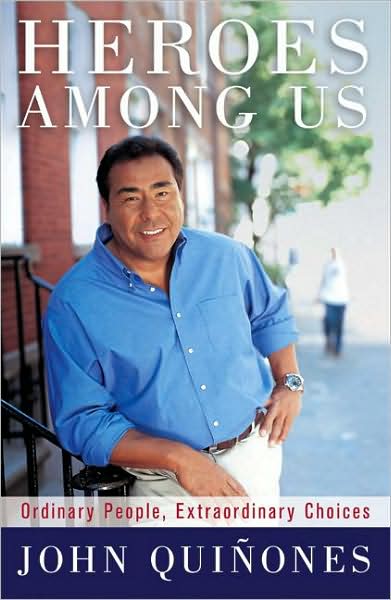 Do you have what it takes to be a hero? Author John Quiñones makes a case that even the weakest and most timid of us can have the potential to be a hero under the right conditions. Across the board we learn heroic tales, and not just of people who run into burning buildings and drag out helpless children. There are also tales of people who sacrifice time and money to help out those in need. these are also heroes in Quiñones' eyes.
It's not an easy book to read at times. I defy you to be able to read the whole thing without shedding a tear or two. The story of the Barrios family's efforts to help the young alleged killer of their matriarch, Viola Barrios. So is the memorial to Christa Macauliffe, the teacher who was one of the victims of the explosion of the space shuttle Discovery in 1986.
But death is not the outcome that makes people heroes throughout this book, otherwise it would be an extremely depressing book indeed. There is also the stories of two former Marines who were significant in the rescue of two victims buried under the rubble of the towers after 9/11. And one of the resue of a busload of children on a bus that happened to be in the middle of the 9340 Bridge when it collapsed in 2007.
And that too is not the only way to be a hero. Although tragedy is a central point in many of the stories, there are ones where every day people just do the right thing, such as the wealthy businessman who organized a food drive, and personally handed out sandwiches to the homeless.
Every story in here is inspiring, and makes you feel good. It might even lead you to do something heroic on your own, or at least to not ignore that homeless man next time you pass him on the street.
I give this one 9 stars.