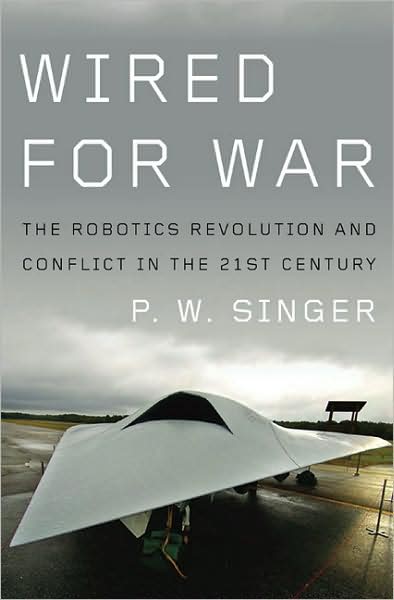 Science fiction meets the future in this book that tells of how ideas that were once only in fantastic tales of the future and movies like
The Terminator
are now rapidly becoming reality. Remote controlled robots like the one described at the beginning of the book are being used for what are highly hazardous missions in which the lives of human soldiers, who used to perform the tasks, are preserved.
I first heard the author in an interview on the Art Bell/George Noory late night radio show. For me, the technological episodes of that show are much more interesting than any of the psuedo-cultural ghosts and aliens that predominate it. When I heard what the show was about, I had to tune in. What I heard there was enough to spur me to read the book.
The subject matter here is the ongoing rise of the use of robotics in the war field. Drone planes that are not remotely controlled from a base in Afghanistan, but actually from a base in Nevada. Robots based on the same kind of technology as the Roomba floor sweeper performing what would otherwise be dangerous tasks for humans. And as we speak, the technology is getting even more refined.
Admittedly this is a rather large tome, and I would have preffered the author be more succinct, since it took me the better part of a month to wade through all this. But if you have a keen interest in the workings of robotics, or how they are being used today, you might want to skim through it.
I rate it 6½ stars