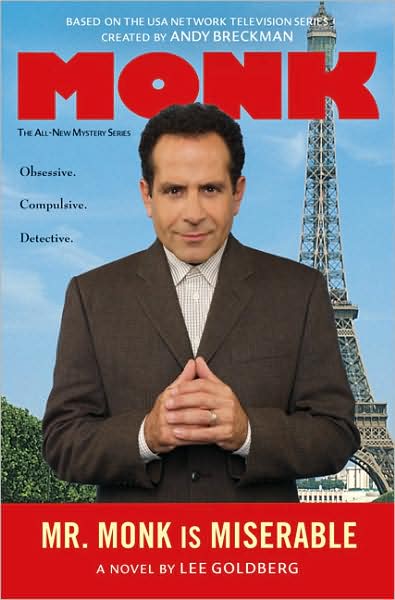 I must confess, I love it when Adrian Monk is out of his milieu, but let's face it, Monk is out of his milieu five steps outside the front door of his apartment. That's what makes the ones where he goes to Hawaii, or Mexico, or New York City that much more enjoyable. Some day, I hope one of the writer's puts him in New Orleans smack dab in the middle of Mardi Gras. (That one's a freebie on me, if any of you are reading this.)
Continuing on from where the last entry in the
Monk
series ended, (see
Mr. Monk Goes to Germany
) we find our heroes Adrian Monk and Natalie Teeger on vacation in Paris (well vacation for Natalie, anyway), which doesn't get off to a very auspicious start. One of the passengers on the plane dies, and of course, it's murder.
Natalie figures she's home free because the inevitable murder that seems to drop into Monk's lap everywhere they go has occured early in the trip.
Au contraire
. Nothing is that easy when it comes to Monk.
Figuring Monk would enjoy seeing the famous catacombs of Paris, she arranges a tour. Leave it to Monk to find the victim of a murder, and not one of the many people who have been buried there for centuries, but one of a recent victim. It turns out that the victim was a former resident of San Francisco, which brings Capt. Stottlemeyer and Lt. Disher on the scene.
Into this mix is a subculture of people who have forsaken life in the richness and luxury of working and spending money, for one of living in the sewers and digging through trash for sustenance.
While not quite up to
Mr. Monk Goes to Germany
, this is still one fun read. I rank it 8½ stars.